Cover Art by Zach McCain
---
The Second Book in the Gibson Blount Series!
SHADOW CREATURES ARE ATTACKING

Thaddeus Archer is an ex-police officer whose missing daughter holds the key to the mysterious force that threatens to lay waste to what's left of our world. It's a race against time for the broken and desperate Archer who must trust the only man who understands what's happening, Gibson Blount, an agent of a secret government agency that doesn't officially exist.

AN ISLAND HAS RISEN OUT OF THE PACIFIC OCEAN

As their world spirals into chaos both men must overcome their differences and personal demons in a world besieged by the re-animated dead, natural disasters, and elder god set on destruction.

CTHULHU IS ABOUT TO WAKE
---
"John Grover and R. Thomas Riley consistently deliver thoughtful tales of terror and the supernatural. Writers whose works build a keen sense of fear and suspense, they tell a well-crafted story with sharp edges and subtle beauty. Definitely recommended!" – Christopher Fulbright, author of OF WOLF AND MAN and THE BONE TREE
"Mix one part Lovecraft, with a liberal sprinkling of demons and a pinch of nuclear holocaust and it creates a true recipe of horrific proportions. Grover and Riley have constructed a human wasteland of such proportion that HP [Lovecraft] himself would grab his head and scream." – Scott T. Goudsward, author of TRAILER TRASH and SHADOWS OVER NEW ENGLAND
---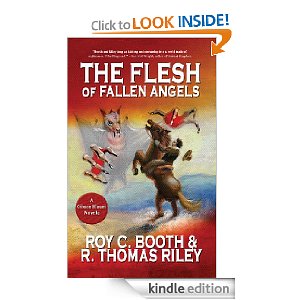 ---
---
Cowritten with Roy C. Booth
Cover Art by Jade Moede
Smashwords
---
The First Book in the Gibson Blount Series!
It's the eve of The Ripening as Gibson Blount discovers the secret history of an ancient race and the true outcome of Lucifer's fall. Now, the fallen angel, Azazel, has horrific plans for Blount's town...and the world. With the help of a local priest, a prostitute, an orphan, historical figure William Quantrill, and one of God's chief angels, Blount must dig for truth and unearth secrets woven deeply within Time itself to uncover a supernatural plot put into motion by the Church to punish the Roanoke Puritans. The War in Heaven has been lost and the flesh of fallen angels hangs in the balance. An alternative 1860's history Weird Western, The Flesh of Fallen Angels is filled with fast-paced action, intrigue, and good-versus-evil what-ifs.
---
"Twenty kinds of epic!" Douglas Wojtowicz, author of Don Pendelton's The Executioner, Patriot Acts and James Axler's Outlander, Infestation Cubed
---